Merton CIL's innovative co-managed structure provides more routes into leadership positions for Deaf and Disabled people.
April 2021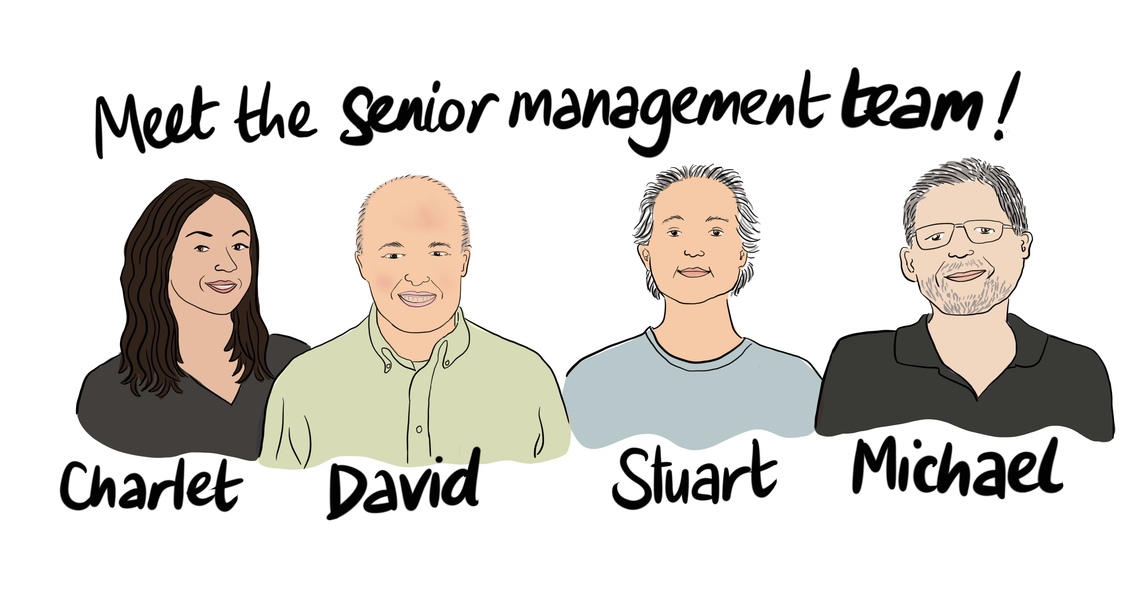 Photo: Illustration of the four members of the senior management team. From left to right – Charlet, David, Stuart and Michael.
Merton CIL's board of trustees decided to move to a new and innovative management structure, where the four members of our skilled senior management team now co-manage the organisation.
Our previous CEO, moved on during the pandemic. Recruitment was going to be high risk at this time, particularly because we would have been recruiting a Deaf/Disabled person and this group are most affected by the pandemic. Not the best time to be trying to fairly attract the best candidates. Rather than take this risk or recruit to a temporary position we decided to think creatively about how the organisation is led and managed in a way that utilised existing skills and experience within the team.

The co-management structure that we opted for instead of hiring a CEO allows us to provide interesting and varied routes into leadership work and skills building for Deaf and Disabled people and individuals with lived experiences of issues faced by our Deaf and Disabled service users. Our service users face discrimination because of their disability but also because of their race, gender, poverty and more. Our senior management team approach these issues from positions of lived experience. This helps us to address intersectionality, challenge stereotypes, attitudinal barriers and more.

Our senior management team includes 2 Disabled people with a range of impairments, 1 BAME female with lived experience of disability, and 1 individual without lived experience.
We know that there is long term problem for Deaf/Disabled people getting employment and progressing into more senior roles in both management and leadership. Inclusion London found that DDPOs face significant challenges bringing in new Deaf or Disabled leaders. Even within DDPOs where employment rates of Disabled people are high, because they are small, flat management structures do not create good progression routes for Disabled people into more senior positions. Baljeet Sandhu's work on lived experience found that having Deaf and Disabled people in leadership positions ensures that activities and services reflect the needs of and benefit the communities they purport to serve. Enabling the organisation to operate equitably, genuinely, and authentically. We decided to think innovatively about how to create a management structure that forms part of our strategy of creating routes to choice, decision making, power and independence for Deaf and Disabled people.
We believe the structure, and evidence of more Disabled people in positions of authority will be confidence boosting and inspirational for Deaf and Disabled members, volunteers, trainees, and other paid staff members, raising people's aspirations for leadership generally.
The structure supports the stability of the organisation. Our senior managers are highly experienced and already embedded within the organisational values and strategy. This can be difficult to attain with a new CEO or new managers because of needing to find individuals with both the organisational management experience, lived experience of the issues, and a strong rights based, social model approach.
The board of trustees are keeping the structure under close and constant review. However, we are all very excited about the next year at Merton CIL and seeing how the structure can help the organisation to evolve.
You can download a PDF here - Merton CIL's innovative co-managed structure provides more routes into leadership positions for Deaf and Disabled people PDF
ENDS
About Merton Centre for Independent Living (Merton CIL): Merton CIL is an organisation run and controlled by and for Deaf and Disabled People, delivering supportive services for Deaf and Disabled People living within The London Borough of Merton - www.mertoncil.org.uk
For more information contact:
Charlet Wilson – Communications & Office Manager
Email: info@mertoncil.org.uk
Telephone: 0779 671 2502 - 0203 397 3119