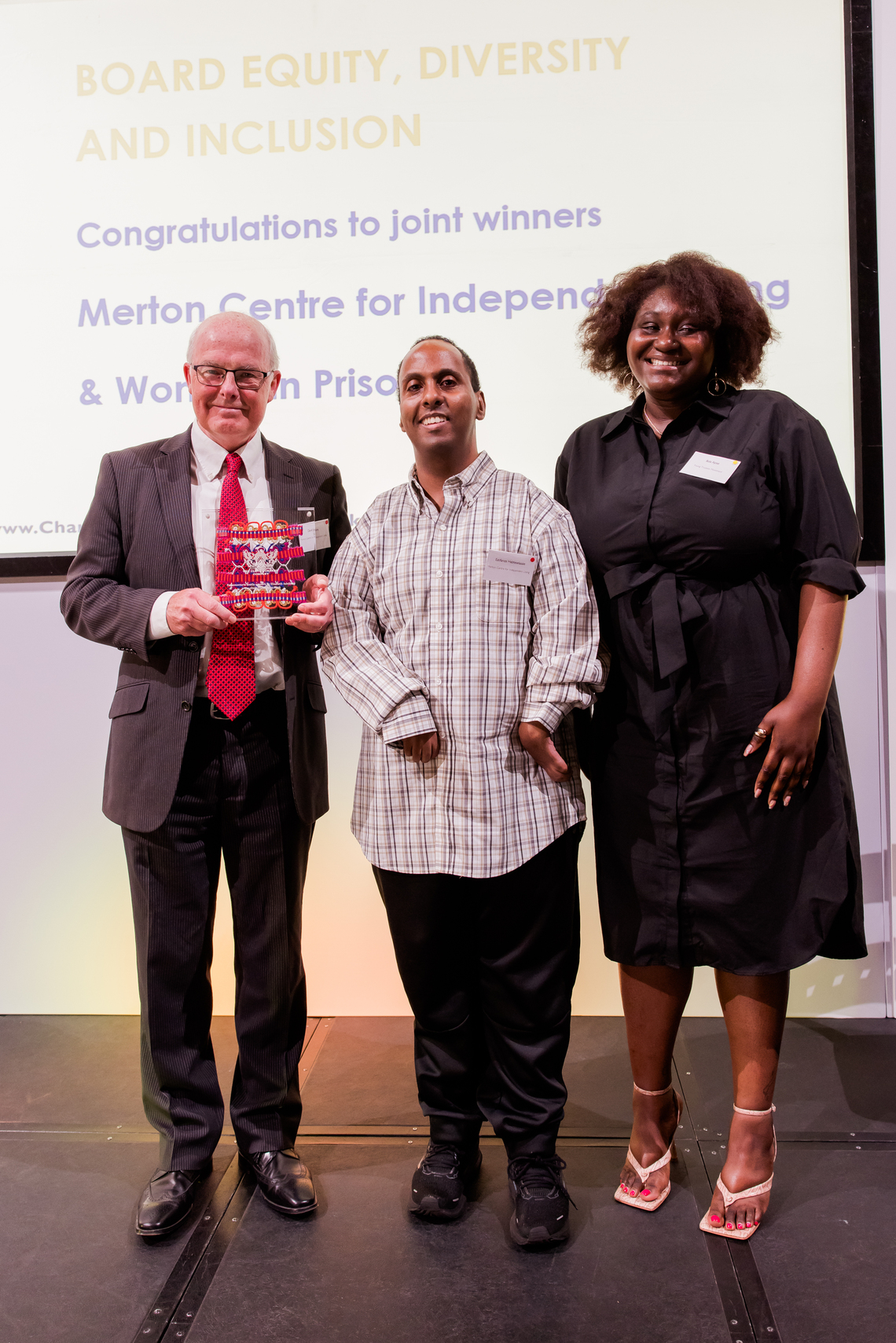 Merton Centre for Independent Living (Merton CIL) won the award for 'Board Equity, Diversity and Inclusion' at The UK Charity Governance Awards. The South London charity was one of six winners announced during a live ceremony at Drapers Hall in Central London on 8 June 2023.
Merton CIL impressed the judges with its proactive approach to recruiting, training, and maintaining a trustee board that fairly represents its beneficiaries in the local community it serves.
The winning charities took home a cash prize of £5,000 (an unrestricted grant). As well as a paid annual membership to the Association of Chairs and a place on Cause4's Trustee Leadership programme for a member of the board.
Estifanos Habtesellasie, Vice Chair of Merton CIL, said, "We greatly appreciate the recognition of our hard work in maintaining and developing a board that centres equity, inclusion, and diversity. This win draws attention to the importance of ensuring lived experience and a variety of perspectives shape our society going forward, we hope to continue to push this aim.
Photo: Joint CEO David and Vice Chair Estifanos with Clothworkers Representative.
Well done to all the other winners on the night and the runners up and nominees too. Together, I hope our work will create a fairer and more equal society."
Deepak Nambisan, who chairs the Awards for the organisers The Clothworkers' Company, said, "Many congratulations to our inspirational winners and everyone who made it onto the shortlist. It's heartening to see that ingenuity, commitment and passion are thriving in the sector, often within challenging circumstances.
"This year, we've been struck by the impressive showing from the country's smallest charities – more than half of all nominees are charities with fewer than 30 employees. This is a shining example of how trustees with foresight, imagination and an authentic connection to their beneficiaries can overcome barriers and achieve great things."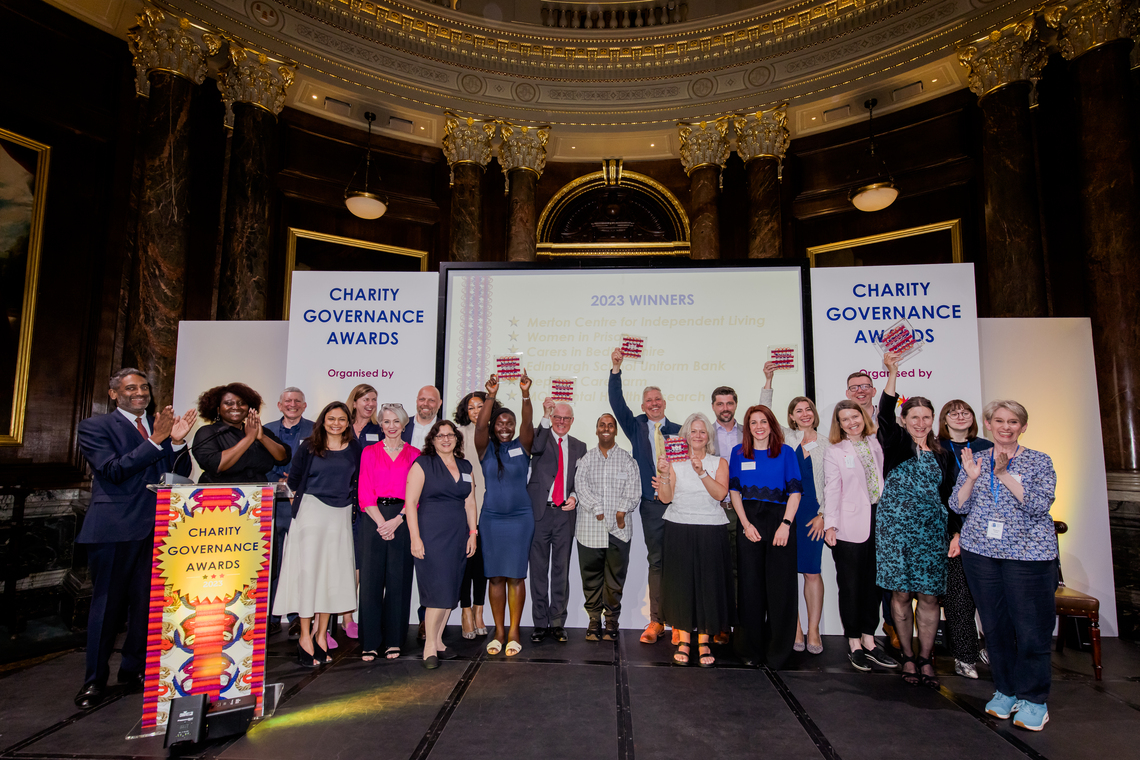 The ceremony took place at Drapers' Hall in London where a keynote speech was delivered by Amir Rizwan, a director at Big Society Capital, chair of the Diversity Forum (UK social investment sector), co vice-chair on the board for the Cripplegate Foundation, and a trustee of The Clothworkers' Foundation. Saeed Atcha MBE DL returned to facilitate a panel discussion at the event.
Charity Governance Awards 2023 – Winners and runners-up in full
Board Equity, Diversity and Inclusion
From Systemic Challenge to Meaningful Change
Transforming with Digital
Improving Impact in Small Charities (0-3 paid staff)
Improving Impact in Small Charities (4-30 paid staff)
Stories of all of the winning charities, and the shortlisted entrants, can be found at www.charitygovernanceawards.co.uk under 'Shortlist and Winners'.
For the Charity Governance Awards, The Clothworkers' Company – a City of London livery company that supports trusteeship initiatives – is partnered with not-for-profit consultancy NPC (New Philanthropy Capital), third sector recruitment specialists Prospectus, and the trustee-matching charity Reach Volunteering. For more information visit www.charitygovernanceawards.co.uk.
[ends]
Editor Notes (media only):
For more information contact:
Charlet Wilson – Joint CEO
info@mertoncil.org.uk 0203 397 3119
About Merton Centre for Independent Living
Merton CIL is a user-led pan-disability Deaf and Disabled people's organisation based in the London Borough of Merton, providing a range of free, accessible, and supportive services for Deaf and Disabled people in Merton. Merton CIL works hard to address the marginalisation of Deaf and Disabled people and make a real difference in Merton and the wider community. Merton CIL supports Deaf and Disabled individuals across the full spectrum of impairment including physical and sensory impairments, mental health, long term health conditions, learning difficulties and neurodiversity. www.mertoncil.org.uk
About The Clothworkers' Company
The Clothworkers' Company is one of the Great Twelve Livery Companies in the City of London. Founded in 1528, its original purpose was to protect its members and promote the craft of cloth-finishing within the City. Today, its mission is to inspire and empower individuals and communities through action, partnership and financial support. It is particularly focused on UK textiles, charity governance, and philanthropy – through The Clothworkers' Foundation and beyond. For the past 20 years, it has worked to establish itself as a champion of trusteeship - encouraging members to volunteer their time and talents, and developing strategic partnerships and initiatives that allow it to support improved charity governance across the UK. www.Clothworkers.co.uk.
About NPC (New Philanthropy Capital)
NPC (New Philanthropy Capital) is a charity think tank and consultancy which occupies a unique position at the nexus between charities and funders, helping them achieve the greatest impact. It is driven by the values and mission of the charity sector, to which it brings the rigour, clarity and analysis needed to achieve the better outcomes that we all seek. NPC also shares the motivations and passion of funders, to whom NPC brings its expertise, experience and track record of success.
About Prospectus
Prospectus is a specialist recruitment consultancy and recruitment advertising and design agency working exclusively with the beyond profit sector. It offers a range of recruitment services leading to appointments at every level, from temporary administrator up to chief executive or board roles.
About Reach Volunteering
Reach Volunteering connects up social purpose organisations with people who want to donate their skills. Every year, hundreds of organisations recruit trustees and volunteers with expertise through its service.