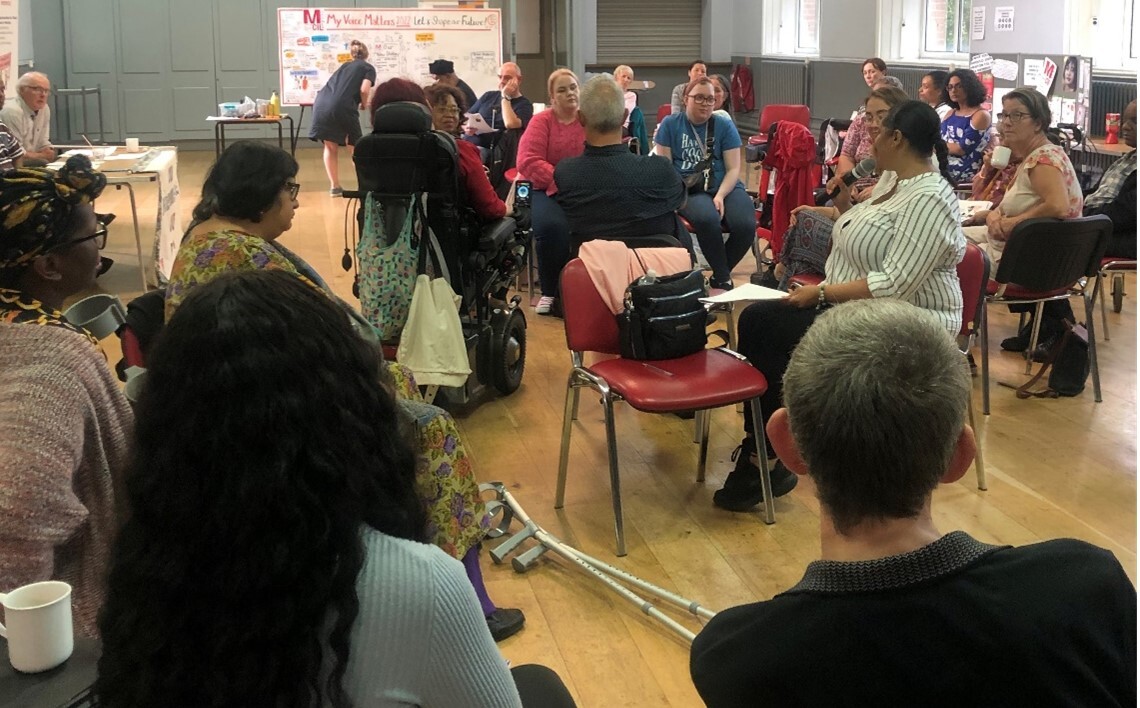 Photo: Local Disabled people and supporters at My Voice Matters at Vestry Hall, Mitcham.
Almost 40 local Disabled people and supporters attended our annual "My Voice Matters" event on 25th August 2022 to share their thoughts and ideas on the direction of Merton CIL's future work. One attendee said "today has been inclusive and empowering. It was inspiring to talk about solutions". Feedback from the event was positive with people highlighting the importance of Merton CIL's current services, as well as asking us to do even more going forward.
Attendees were keen to see some of our newly introduced health work continue and grow. People wanted more help accessing health care and speaking up at health appointments. Due to limited local support and the effects of the pandemic on our community, the need for more support around mental health was a hot topic. Attendees also shared their experiences of intersectionality. The experience of health care can vary for Black, Asian, and ethnic minority Disabled people and some expressed a need for issues arising to be explored.
When we drafted our current strategy, young Disabled people were identified as a key group that Merton CIL should be talking to and working with. Due to the pandemic, this has been an area of work that we have not focused upon in the way that we would have wished. Attendees were keen to carry this priority over to our new strategy and build in new ideas. One of the reoccurring comments focused on more support for young Disabled people when transitioning to an independent adult life.
Everyone had lots to say about accessibility. Many shared experiences of poor access to services, buildings, and transport. Attendees asked Merton CIL to continue its work supporting the access champions (a group of members that campaign to #MakeMertonAccessible) to ensure that the council, local businesses and other decision makers keep the improvement of accessibility in the borough at the forefront and involve more Disabled people in decision making.
Finally, attendees were also given the chance to share their own ideas. People wanted to see a focus on employment and building skills that would support more Disabled people to thrive in influential positions within our community.

Acting joint CEO, Charlet Wilson said 'It has been amazing to have the opportunity to listen to what work local Disabled people and supporters would like us to focus on and we are excited to use this feedback to help develop our new strategy. We won't be able to do everything we have been asked to at My Voice Matters, due to budget constraints, but we will do our best and continue to support Disabled people to speak up'.
Please check back for minutes and content from the event.
Photo: People's ideas were captured live during the event by artist Sandra Howgate