My Voice Matters 2017: Lets Right A Wrong!
We Need Your Voice at My Voice Matters 2017!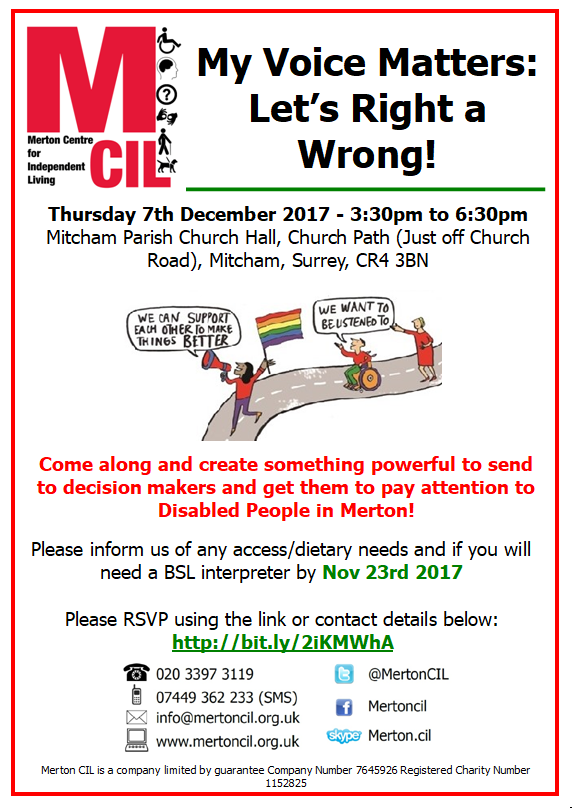 Mitcham Parish Church Hall, Church Path, Just off Church Road, Mitcham,Surrey, CR4 3BN
Thursday 7th December 2017 from 3:30pm until 6:30pm
Come along and create something powerful to send to decision makers and get them to pay attention to Disabled People in Merton. There will be three booths that will aim to support you document any issues that you have in a creative way!
1. Protest song writing workshop
Led by our very own superstar musician John Kelly. We hope that those that attend this workshop will be able to come together and write a short and powerful song
2. Poster making workshop
We hope that those who attend this workshop will create impactful and hardhitting posters/banners that we can exhibit
3. Postcard Wall
This will be a chance for people to jot down their issues on a postcard, identify which local decision maker they believe can sort this issue and we will then send them on to the relevant individual.
We will also screen our film that we developed on making change happen and have a guest speaker opening the event. There will also be light refreshments avaliable.
Please inform of any access or dierty requirements by November 23rd 2017
Please RSVP by telephone: 0203 397 3119
Email: info@mertoncil.org.uk
Online: http://bit.ly/2iKMWhA
Look forward to seeing you all there!