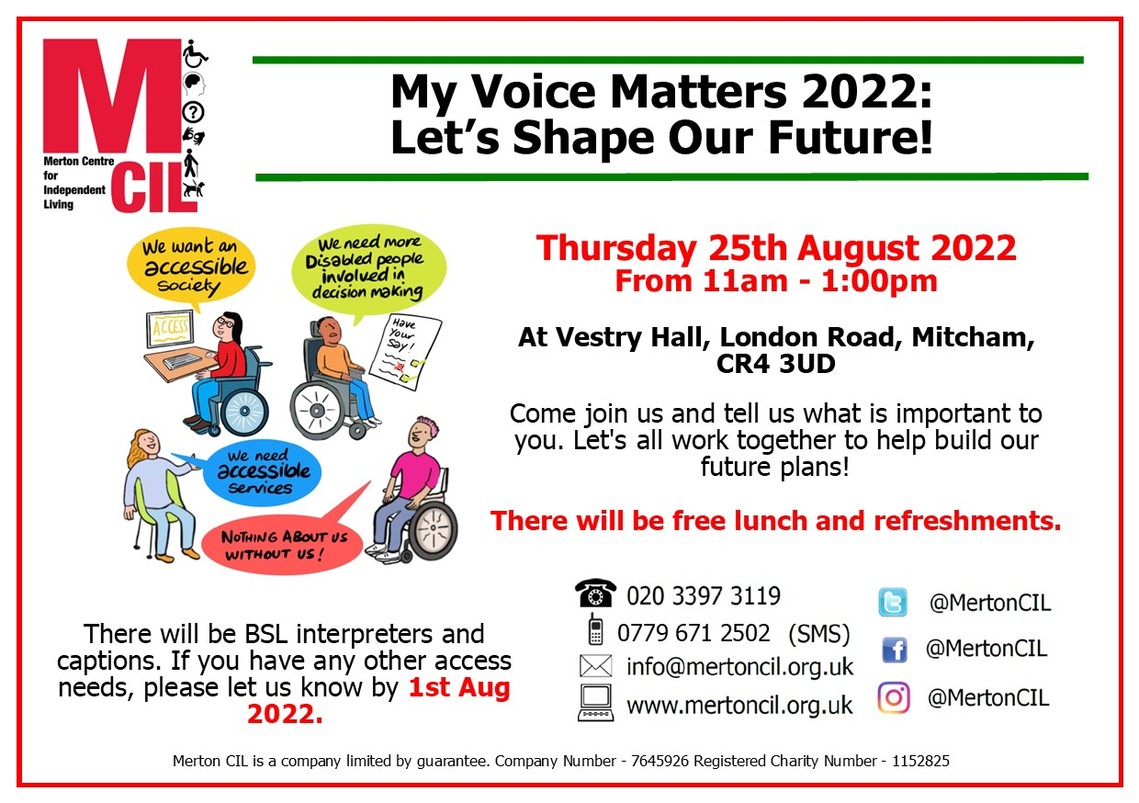 My Voice Matters 2022: Let's Shape Our Future!
Thursday 25 August 2022
11:00 to 13:00
Come join us at this years My Voice Matters event and tell us what is important to you. Let's all work together to help build our future plans!
Feedback from this event will help to shape our new strategy and future work.
There will be free lunch and refreshments.
There will be BSL interpreters. If you have any other access needs, please let us know by 1st Aug 2022.
RSVP here - https://bit.ly/3zCB8qK or you can let us know via email or telephone.
Getting involved on social media
Please follow us on social media @MertonCIL. You can get involved by using the hashtag #MyVoiceMatters22
Agenda
Arrival from 10:45am

11am Arrive – Tea and Coffee will be available
11:20am -11:40am Welcome and introductions What we're doing today. What we hope to achieve. A bit about Merton CIL
11:40am – 12:30pm Help us build our future! In groups, talk about what is important to you (groups will be facilitated by staff and trustees)
12:30pm – 12:45pm Feedback from our members and supporters
12:45pm – 1:00pm Let's prioritise! Help us decide what is most important
1.00pm -1:30pm Lunch! - Let's eat together

Have your say in our Video Booth and tell us how you found the event and/or what you think of Merton CIL.

We look forward to seeing you there!